Statement/Bio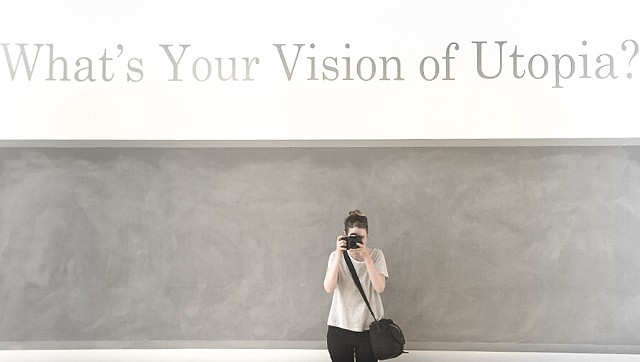 ARTIST STATEMENT
My artistic biography begins with a negation. At the age of sixteen a car accident broke my neck and took away my ability to read. With abject sensibility, with science on their side, a team of neurosurgeons sentenced me to a life without words (and then went about their day). Scientific training, statistics, the photograph, proof, all have the potential to be synonyms for finality. This is what we know. And now we may move on. The language of rational objectivism and materialist science are designed to offer the comfort of truth. Such things do not bind the dark complexity of the human spirit. The core of my work contains these conflicts, ideological certainty versus the traces of the irrational, and always, always the search for alternatives.
I regained the ability to read, but with that a fascination with the idea of the accident. There is a raw power to the unexpected, that which can immediately strip one of all sense of propriety, of societal codes, and reveal a fragile self. And I'm fascinated by the psychological aftermaths, our extensive efforts to prevent accidents, and of our contradictory search for meaning in the accident when it occurs. On a larger scope, I am fascinated by the accidents of history and the longing to replace the tragic, repair the tragic, deny the tragic with a new, and better future.
How do we describe all of this to ourselves? And how can we hold onto our own descriptions? For the subtle richness of our own identity is in constant dialogue with contemporary mass media as personal experience is mitigated by the realism of representation, the declarations of marketing, and the potential for replacing individual memory with its televised counterpart. Stripped of our own stories we open ourselves to be defined and define by clichés, to be dullified by generalizations, and motivated by symbolic language: hope, freedom, change, now more than ever. Collective memory should be a contested media in which historical pasts and current paradigms are both made and remade in constant interaction with all sorts of new facts and simulations. So that when we observe and explain the world to ourselves it expands rather than contracts. Complexity and contradiction embraced as a form of resistance- empowered incomprehension.
I am trained as a photographer. I use light and time and very often a lens. I am also a cartographer, a historian, a linguist, and a political theorist. Research is my medium.
BIO
Katherine Cunningham is a lens-based artist, writer, and educator.
Katherine received a BFA in photography from Washington University in St. Louis, with time abroad at Goldsmiths College, University of London. She went on to obtain an MFA in photography from The University of Notre Dame, where she was awarded the Erfroymson Fund Emerging Artist Award. In 2011, she earned an MMus from the Royal Conservatoire in the Hague, the Netherlands having participated in an interdisciplinary program called ArtScience. Her curiosity about the world and passion for art making has lead to diverse experiences, from photographing girls' schools in Cairo, Egypt to working on augmented reality with the prestigious V2_Institute for the Unstable Media in Rotterdam, the Netherlands. Katherine has exhibited and published both nationally and internationally.